Hark Matilda Version 1 The Prototype....
Graham Maddrell (Maddie) lead vocals guitar songwriting
Gareth John (Gaz) lead guitar vocals
Dave Jones bass
John Hornby
drums
The basement Hark Matilda band era and boy where we rough. We really didn't have any material at this stage and our drummer, John Hornby, was more interested in being Alvin Lee from Ten Years After rather than Ringo. But all the same, despite some limitations he proved his worth and it was good grounding for our assault on world rock domination. Slowly but surely, I began writing songs, most of which were drastically changed in style - for the better -by the band as we developed. Piece of Mind and Swamp Girl were originals, and Gaz took on the vocal chores for The Grateful Dead's song, Bertha. As we were approaching our first gig at the Liverpool University Halls of Residence, South Mossley Hill Road, Liverpool, John who was actually employed decided that he was going to go a works do (in a bloody tuxedo!) rather than hang out and gig with this band of long haired, loon clad reprobates. We then decided that, a change was necessary if we were going to take this thing seriously. Dave and myself went round to see Brian Harcombe (ex-Shop Soiled) and asked if he'd like a job of drummer in the next big band to hit the world. But as he wasn't getting that one he joined Hark Matilda instead. By now, we had also undergone serious hair cuts, bereft of the long, flowing locks we were now quite presentable however, my horn rimmed glasses never quite seemed as trendy as when Declan McManus (remember him from Rusty?) yep, Elvis Costello appeared shortly after wearing similar specs. He looked bloody good, I looked bloody chronic! Today, Maddie has two musical outlets, both based around his studio work. The links below will take you to download sites for Breaking The Mould (rock studio) and 721 (instrumental studio)
Breaking The Mould mp3 - rock studio
Hark Matilda Version 2 It's Getting There....
Graham Maddrell (Maddie) lead vocals guitar songwriting
Gareth John (Gaz) lead guitar vocals
Dave Jones bass
Brian Harcombe drums
Mike Carter sound system mixing stylophone
Now from the word go, nothing phased Brian Harcombe. Now shorn of his once famous long hair, he still retained the rock spirit - in other words he was completely barmy. Also he still looked that part as he played a great looking drum kit with a double bass drum set up, very much Ginger Baker. But this was the start of the serious work by Hark Matilda, we practiced when we could but we had lost the basement at the sweet shop. Brian's style was radically different to John's, without being nasty Brian was a true pro and played like it. We made our debut at the University Hall playing support to the Sounds Mad Disco (run by Paul Morton and Phil Oldham). This was handy as we could use their WEM pa system. We played, but we weren't very good at one stage Mike Carter - who was doing our sound, ably supported by his delightful wife Chris - actually walked on stage to turn my H&H combo amp down. No word of a lie, we literally cleared the hall. Gaz was distraught, head bowed and off his pint for at least..oh, about five minutes, but I put it down to the fact that the audience was just not ready to understand our experimental sound. Hell, they laughed at Pink Floyd didn't they? Brian stayed on drums for quite a while, but eventually was drawn away to join another local band called Restless. They were fronted by the bespectacled Allen Mayes, whom we had once shared the stage with as Cream Soda when he was in the acoustic band, Rusty.
Hark Matilda Version 3 It's Rockin' Actually....
Graham Maddrell (Maddie) lead vocals guitar songwriting
Gareth John (Gaz) lead guitar vocals
Dave Jones bass
Dave Haines drums vocals
Mike Carter
sound stylophone
With no drummer again, we held various auditions in an old warehouse in Paradise Street, now long since demolished. After the first dozen drummers all with different styles I was losing the will to live let alone the will to run through another song with another drummer, then this nutter came and sat down. The madcap grinned wildly at three very tired musos, we noticed he had no top set of teeth, and....then he bashed his drums about a bit, but whatever we threw at him his style suited us right down to the ground - and he could sing as well. The brilliant Dave Haines, you're in my son! At this time Mike Carter had gotten his hands on a Stylophone, which he was to use to good effect as our sets improved, but more of that later.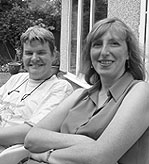 Mike and Chris Carter - June 2003
June 2003, where are they now?....a simple enough question. Well, the pursuit has hotted up in tracing the members of Hark Matilda - they are still out there! I emailed Gaz whose name appeared on a Friends Reunited site, he's still in Wales where he left Liverpool for many years ago. I know he still comes up to Liverpool to watch Everton, so all I can do is hope he gets in touch. Dave Jones, I presume is still living in Wirral. I tracked down his former workplace but they couldn't give me any information. I was also going to phone around the Jones entries in the phonebook, but there's millions!!! Brian Harcombe is in Runcorn - at least he was last time I heard from him. I used to bump into him at various Prince concerts around the country. June 2003, and I actually met up again with Mike and Chris Carter, and it was a real pleasure. Both of them not changed a great deal - Mike gave me an old reel to reel tape of the band practising, bad (or good) news all the other tapes had dissolved into mush! A warning to all, I guarentee to keep in touch much better this time round with Mike and Chris - so there you've been told. July 2003, actually got a message from Gaz on the answerphone (all via Friends Reunited). He's in Wales, still supporting Everton....but I lost his number and couldn't get back to him - but as we've made contact once I'm sure we'll catch up again. September 2003, the final piece in the jigsaw and what was the most difficult search. Made contact with our solid as a rock guy and bass player, Dave Jones. He's now living in Kettering (not Wirral) with the magnificent Rose - great girl! We spoke on the telephone and have exchanged numbers, emails and all sorts of things. Apparently his son is now a very accomplished musician. It was so good to chat over old times and with luck we can meet up in the near future. December 2003/January 2004: All band investigations complete, got phone calls from both Dave Jones and from Gaz. Met up with Dave and his wife, lovely Rose, (not changed a bit) at the Mitre in Liverpool in the break between Chistmas and New Year. Great to see them both and it was doubly enjoyable because Mike Carter came along as well. Dave has had a bit of a hiccup healthwise, but was well on the road to recovery and lookek happy and contenet. Not playing the bass these days and te droopty Zapata moustache has gone (shame!), but has taken up the penny whistle. As for Gaz, well he called just before the Liverpool v Everton derby game at Anfield, and arranged to meet up later at The Tavern, together with an old mate of his, Bob Jones. Once again, not changed at all, no longer has the long hair of yesteryear (however, at least he still has some!) and like myself doesn't smoke anymore, but I'm pleased to report still drinks magnificently. He has a twelve year old daughter (light of his life!), doesn't have the Telecaster anymore - replaced by a Statocaster (which he doesn't like particularly). He even got in touch with our original drummer, John Hornby, who is alive and well with his wife, Gail, up North in Inverness. Got to say, meeting up again with Mike, Dave and Gaz was great, it's a pity we are all split up geographically, because it would have been nice to get together for one last gig - well, who knows?
Hark, Hark Matilda...the weasel is STILL alright