Hark Matilda played many gigs throughout Liverpool and even travelled through the tunnel under the river and over the big brown waterway to the far away lands of Wirral. There were a number of regular haunts we played and a few which were solely one off gigs - maybe our choice, but more than likely the landlords. I have listed a few of the places we played, each one of the venues had some distinct happening or memory, so I'll recall them as each is listed below. One of the main things which could be spotted very visible on top of our amps, and perhaps something which gave away our nerves at performing was two or three toilet rolls - soft, of course - just in case. If things got to blind panic and bum cheeks twitched on stage we could always give the drummer the nod to do a long drum solo so we could disappear to the cubicles of our choice. Also featured below, is a very polite letter which we despatched - in our innocence - to various venues in the vain hope of getting some more igs or at least some sympathy. Feel free to use it today if it helps, but it didn't do much for us.....:
Dear Sir/Madam
The reason we are writing to you is to introduce you to one of the finer bands currently in Liverpool. Unfortunately they have been having quite some difficulty with the various City agencies and are obliged to promote themselves until a satisfactory agreement can be reached.
Hark Matilda was formed just eight months ago and are already one of the tightest units in town, playing predominantly original material, varying from heavy rock, through rock n roll to the lighter aspects of contemporary music. As a four piece (bass, drums, two guitars), they are presently working the rock pubs and clubs in and around Liverpool and are anxious to present their act to the schools and colleges in the area.
We sincerely hope that you will consider this band for promotion when any suitable functions arise at your school. For further details, please do not hesitate to contact any of us at the following evening phone numbers.
Yours faithfully,
Gareth John for Hark Matilda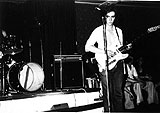 Gaz - where's everybody gone?
Practice does not necessarily make perfect.
Sweet Shop basement, Greenbank Road, Liverpool - Yum, yum, lots of freebies and yards from a huge main road pub. Memorable occasion of me trying to pose in front of two girls (Cathy and Barbara) watching us practice and leaping in the air (Pete Townsend-like) and putting the neck of my guitar through the ceiling. Stupid posuer. At this time bot Gaz and myself had a mad passion for something which happened every Friday - The Lone Groover in the NME....Eek Aloors!!! I've still got the cartoon strips in a book even after all these years.
Cross Keys Pub, Roe Street, Liverpool - A legendary pub in Liverpool - now sadly demolished - adjacent to the old Liverpool Stadium, famous for its boxing and wrestling nights - both the pub and the Stadium. Dave Jones who worked for a brewery pulled a few strings to get us in,.
The Albert, Lark Lane, Liverpool - Large pub in what was thought to be trendy, bohemian part of the Sefton Park area of Liverpool. We were in our element upstairs and we almost gave off the appearence of being hip musicians.
Gregsons Wells, Liverpool - Home base of the well known Spinners folk group, only a few a few practices here, not too many or should that be not too-ra-lu-la-ru many!!!
Youth Club, Old Swan, Liverpool - Practice room on first floor, absolutely knackering getting gear upstairs. Run by by Priest - probably in gaol by now for molesting minors - affectionately known by band as the Reverend Whinge. "It's too loud boys, you don't need all that noise do you...and anyone like a bottle of coke?"
Desolate Welsh Cottage, Bala A cottage belonging to a relation of Dave Jones Mad idea, getting away from it all into the country with wives, girlfriends and assorted pets. The band was almost shot by foaming at the mouth neighbouring Welsh farmer with his shotgun who had a hatred of all things Liverpool. We made the mistake of stopping at his farm in the gathering dusk thinking it was the cottage we had hired, we unloaded all of our gear, and was then set upon by Mad Farmer Blodwyn. Visited the next day at our cottage by local police following complaint about noise of the band's practice as it echoed across the Welsh valleys. As police arrived, Brian's dog, Groucho, dragged in a small dead sheep and dropped it at our feet. No pub for miles and no visible food was in the cottage - starvation peaked to its highest level and cannabalism was not out of the question, so after all that suffering don't tell me white men can't sing the blues. The cottage idea works for a lot of bands - usually millionaire ones - but not for us, so maybe were not proper hippies after all. When I got home I must have slept for a week.