Well, now the time has arrived, Friday 23rd May, we load our gear up in the back of the Sounds Mad disco van and head off to Hark Matilda's first official - non paid - gig. This is it boys, we're in the big time at last. Better prepare ourselves for all the young student groupies which will be clamouring after us pop stars later. Suffice to say it was a disaster, shot down in flames, no groupies and at one stage no audience. It did get better, and what follows are some recollections, set lists, venues and whatever else is remembered from our tiny entry into rock history.....
O Connor's Tavern, Hardman Street, Liverpool Tuesday 27 May....we figured that the experience from the University gig would hold us all together, so we played an upstairs gig at what was at the time the place were all the "real heads" hung out. We were going to be a success - or should that be were we going to be a big success. Not quite this time, we continued our downward plunge like the band on the Titanic, going down fast but still playing! I can't recall too much about the gig, except that we were not very good - however, we had the knowledge that practice would make perfect. Well, we never quite attained the great height, of perfection, but it did get better.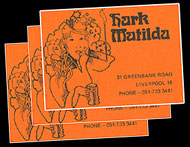 Business cards showed we were serious
O Connor's Tavern, Hardman Street, Liverpool Tuesday 10 June.... we were rebooked somehow! We practiced like hell and we wrote new material, which, although rough around the edges, showed a bit of promise. We nearly had a full set together. Now one thing I will stick with Hark Matilda is that we never did covers, well not proper ones - most bands around that time were Deep Purple clones etc. We stuck to our guns and did our own stuff, except for maybe the odd Grateful Dead or Nitty Gritty Dirt Band tune - which, let's face none would have heard of anyway. The band's triumphant return to O Connor's wasn't quite so triumphant, but it was better than last time. I recall that we started off quite strong, but tended to drift into gibberish later on in the set - it was down to inexperience. This gig was one of the first times we tried our concept piece, Knee Trembler, on an audience. It did develop into quite a strong song later on, but not for now. My fault I suppose, beacuse I had this idea that we could get away with some free form twiddling - like the longer Grateful Dead stuff - and keep an audience interested. Nah!, we started off okay, but when it came to the long, twiddly bit, which included Mike Carter's tapes of Hitler's Nuremberg Rally speeches - it all went pear shaped. Disinterest abounded, which included our drummer, Brian Harcombe, who stalked the staging area with a squeeky rubber toy, squeezing it furiously - we took the hint and never played Knee Trember again like that. It was a better show, and somebody said we were good. Well, what they actually said was....that we had good gear - that will do nicely, an offhanded compliment, but it's a start!!
Moonstone, St Johns Precinct, Liverpool Saturday 21 June....audition time, and it was a trek to the Moonstone pub in Liverpool for a 20 minute lunchtime performance to see if we could get some bookings. Played about six songs and we were not too bad. Approached by a long haired guy with glasses who said he recognised my songwriting style from my "unique use" of a Cmajor6th in the bands title song, Hark Matilda. He was impressed, bloody hell, so was I - what the hell was a Cmajor6th? If I played it , it was a definite fluke! The guy was Allen Mayes (from Rusty) from my acoustic trio days with Cream Soda and the Temple Bar - he had a new seven piece band called Restless. We chatted and became close musical buddies, both going to each others gigs when we had the chance - I went to more of his! This relationship petered out following my threat to punch his lights out as I got pissed at The Moonstone months later - before an Ozark Mountain Daredevils gig at the Royal Court - and we argued about a Brinsley Schwarz song. Pop stars eh!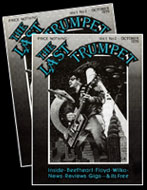 The Last Trumpet
Star and Garter, St Johns Precinct, Liverpool Saturday 9th August....By now we were actually getting a few gigs in, and as a band had developed quite nicely. We were playing some regular gigs at venues throughout Liverpool, in such watering holes as The Sandon, a cream tiled pub which lay in the shadows of Liverpool football club's famous Kop. We also visited the desert wasteland of Speke to play at The Dove and Olive. Now this was a tough gig, I reckoned that a power trio of Elvis, Sinatra and Lennon would have had difficulty in pleasing this lot. Payment for the gig - by now the staggering fee of £25 - was almost secondary as it was pleasure to get away with your life intact. But the Star and Garter, it was a Saturday night, the place was absolutely packed to the rafters, and it was during the freak heatwave which hit the UK shores that year. We were playing a mix of our own self penned stuff - Moma, Hark Matilda, Sailing, and of course, Knee Trembler -more in a moment -, and some obscure covers, such as Bertha and Beat It On Down the LIne (Grateful Dead) and Cosmic Cowboy (Nitty Gritty Dirt Band) featuring Gaz on lead vocals. Mike Carter had become more involved musically, apart from mixing our sound through our meagre WEM desk. During Knee Tembler - in a particularly slow and atmospheric sequence - from behind the desk he would introduce his Stylophone. It went great and nobody could see who was playing it and nobody knew how we managed to use some sort of keyboard without even touching it - brilliant!!! It was a good night, we actually recieved an encore, but the problem was we had no other songs to play - the answer was to do a longer version of our starting tune, Hark Matilda. It went down well and we kept in in the set from then. Somebody pinched the keys to the van, had to pick up the gear first thing on Sunday - dragsville! We were also getting a bit of local press coverage now through our long standing relationship with Probe Records and The Last Trumpet, a magazine edited by the late, lamented big Roger Eagle. The night was soured by the fact that a couple of weeks earlier, Brian had indicated that he was leaving the band to play with Restless, so this was his last gig. I spat my dummy out ,sulked a bit, but on reflection, who could blame him when he was going to get more work and regular wages.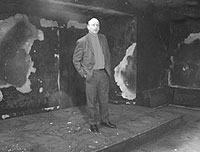 2003 - the shell of the Dale
The Dale, Poulton Road, Wallasey Saturday 23 August....Brian was gone and Dave Haines was in on drums - a problem, we had no chance to practice with him after the audtion, and a late call saw us going over to Wirral to The Dale for a gig. Dave was a nutter, no teeth and no problems and nothing phased him. He was forever doing impressions, jokes, singing and, what we found out, was one hell of a drummer. We arrived at The Dale, set up and quickly went through the set verbally with Dave. We must have sounded professional, though we knew that we were never quite sure what would come out of our amps at any given time. Dave said he would busk it, we joined in! We went onto the small stage - big time this, we even had a dressing room! "Ladies and Gentlemen, Please welcome England's Finest.....HARK MATILDA!" A drum roll on the toms from Dave and away we went, and I must say that for most of the gig we were quite good. I had a cold and my normal voice was croaked, but somehow I sounded better. Dave Haines had a blinder, picking up every little thing and barely a mistake was noticed. We even managed to tape the show and though for 1975 its a rough as a bears backside, to me it sounds as good as anything. The full set list for the evening was - Hark Matilda, Piece of Mind, Cosmic Cowboy, Moma, Swamp Girl (click link below for a live recording - sound is a bit rough but...?), Sailing, Bertha, Knee Trembler, King Bee, Treat Your Woman Right, and Beat It On Down The LIne. Sadly today, The Dale has just been demolished (June 2003) having been the victim over several years from the yob culture of wanton destruction. It's been burned out, vandalised and generally battered from head to toe. I went back to see it not long ago (see photo) and I found the old stage still in the same place - although it 's gone like so many old venues seeing it just brougt back so many memories. I can almost still hear the old drunk in the audience that night continually asking us to play Girl Of My Dreams. Hey ho!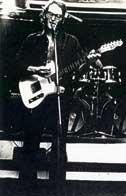 Maddie with knife in head!
Open Mind, Adelphi Suite, Lime Strret, Liverpool Monday 15 September....A charity gig, a good cause, and a bar open till midnight - this is the life. Here we were, Hark Matilda, playing to handful of hippie souls and a few drunks who noticed that there was a late bar, whilst less that a quarter of a mile on the same street, Paul MacCartney was playing to a full house at The Empire - what's he got that we haven't??? Still despite it all, it was an enjoyable gig, quite relaxed and it saw the introduction via the madcap Dave Haines of the drum roll special of Shang A Lang by the Bay City Rollers - nice one Dave! It was also the debut of the said Mr Haines on backing vocals, adding a lovely high tone to the end of Cosmic Cowboy. I can't even remotely remember what the Open Mind Preservation Society was all about, but it was our local comunity thing, it was our chance to be hippies. They danced and sympathetically clapped along with our songs, but the bar open till midnight was definitely the winner that night.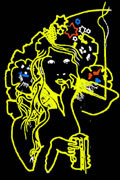 Le Metro Club, Liverpool Friday 17 October.....Now this was a cool place, downstairs in the basement club of Le Metro. Lots of musos hung out there, so it was quite clicky...but still fun to nod knowingly at fellow musicians from bigger bands. Le Metro was run a small French guy in a beret - had to be! - and was down some backstreet, it's inside style and decor resembled the old Cavern Club. We played right in the faces of the audience, who were actually dancing around. Now it may have been a coachload of punters suffering from St Vitus Dance, but I prefer to think that they actually were getting off on our music. We were going down a storm, but this was probably the first time that Gaz and myself had a minor fracas. We were supposed to do two sets, but it was going so good I shouted that we'd play right through - just as Gaz broke two strings on his Telecaster. I hadn't noticed that he was struugling and kept rambling on about playing on - suddenly he hurled a pint - well, an empty pint glass, he wasn't that careless! - and I soon got the message. We played two sets. We played a recently written song - Down on My Farm (Fixin' A Hole) - which I really liked, but Mike and Chris hated. It was a brilliant two setter, an extended Hark Matilda finished the second set, and I was so into it I was about to do a Pete Townsend and hit the wall with my guitar, til I realised I hadn't finished the HP payments on it. The management were pleased, we bought the bar staff a drink and they put a sign up saying 'Thanks to the Nicest Band Ever To Have Played Here.' We all felt very high!!! The little French guy in the beret thanked us and shook our hands, saying we were welcome to visit any night, just knock on the door and they'll let you in. Well, we did the very next night ,we knocked and the bouncers told us to piss off!!!