Dave Jones - ultimate calm on bass

Early Days....We had all pretended to be weekend hippies, and taking up the guitar seemed a logical step to playing our meaningful and, what we considered, important music. The nucleus of Liverpool based Hark Matilda was formed around three main guys Gareth John (Gaz) on lead guitar/vocals, Graham Maddrell (Maddie) on rhythm guitar and main vocals, and Dave Jones (Dave!!!), solid as a rock on bass. Now Dave was the only guy who had real experience of being in a proper band, having played for a long time with some other guys we knew - Steve Bone and Brian Harcombe - in a power Cream styled trio called Shop Soiled. These were proper musicians, who stayed up late, smoked and looked real cool under the translucent, flickering lights shows - mainly at shows at the The Blackie, Great Georges Hall - which went with their sets- they were our heroes!!!. When Shop Soiled split, amicable of course, Dave was left really doing nothing.
Gaz - unphased after a pint or three
It Begins....At that time Gaz was already a very accomplished acoustic guitar player, to a standard everyone envied, especially me. So I go and buy a cheap guitar from Frank Hessey and start to learn. Fortunately, after many trials and out of key tribulations, I managed to pick out the basic chords and began writing some incredibly bad stuff - The Imaginary Maiden and Me....hmmmmm, get the picture!!!! I got talking with Dave Jones and we discussed the possibility of getting an acoustic based three piece band together, which we eventually did. This trio of angel voiced musicians also included Stuart McLaughlin (Haggis!!!) on lead acoustic, with Dave on bass and tight trousers, and me on acoustic and vocals. We called ourselves Cream Soda, because we played pop music. Now I know that sounds crap today, but in the 70's it was really was considered very witty and original, honestly. We played a few gigs around Liverpool, The Temple Bar being one, our highlight being on the same bill with another three piece acoustic band who were really good called Rusty. Rusty featured Allen Mayes and Declan McManus - aka Elvis Costello who was then quite podgy, long haired, denim clad and had to leave the gig early as he was on night shift in a bank centre in Bootle. He did say he liked the Grateful Dead sticker on my guitar - a man with impeccable taste! Anyway, after a few gigs, Cream Soda went flat and the option was what next?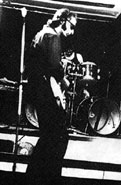 Maddie - up front, someone had to be!
First Steps....well, what next was that Gaz wanted to put an electric 4/5 piece band together, so it was a logical step that we get together. We had the guitarists, vocals (of sorts!), a bass player and somewhere around there was a drummer lurking in the background. That drummer was John Hornby. His dad owned a local sweet shop and apart from having a set of drums - which helped - he also had access to a basement in which we could practice, and unlimited Mars Bars. We practised, and we practised, but we still didn't have a proper name for the band. Suggestions flew in - Cow Pat, Range War was a particular favourit - influenced by our hero worship of Brinsley Schwarz - but most of them flew out again. Then one night, somebody passed wind - not me! - and our drummer casually remarked, "Hey, Hark Matilda a weasel!" - apparently an old Australian saying which his Aussie girlfriend was prone to saying - makes sense eh! Somehow it was perfect, it was our name, all that without the aid of hallucenogenic drugs or even a pint of Double Diamond. Now we were a proper band, we were Hark Matilda A Weasel. Euphoria set in, and we retired to the Brooke House for a jar or three, but on reflection we thought it was perhaps the name was a tad too long, so whittled down it soon became plain old Hark Matilda. And that my friends is how the legend of Hark Matilda came to be....