Open Mind Preservation Society....What you see below is the original poster whipped from the wall of the venue. Note the stunning graphical quality and the bargain entrance fee of just, yes just 30p! Also on the bill was, "International Wanderin' Minstrel', the one and the only, Anthony Aaardvark. Now, age and failing memory stops me from recalling just who the hell this guy was, but realistically it doesn't sound too promising that he was any good! - he's probably still 'wanderin' or is in The Stereophonics now!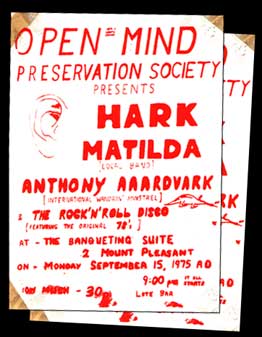 Original poster from the Open Mind concert
Liverpool Stadium...Our sudden musical rise to fame and increased cool credibility gave us the opportunity to support an actual big time group - The Edgar Broughton Band - at our biggest venue, Liverpool Stadium. Like a wally, I actually went out and bought the ticket from Probe Records at 75p just to add to the memory collection!
Ticket of the show promoted by Roger Eagle